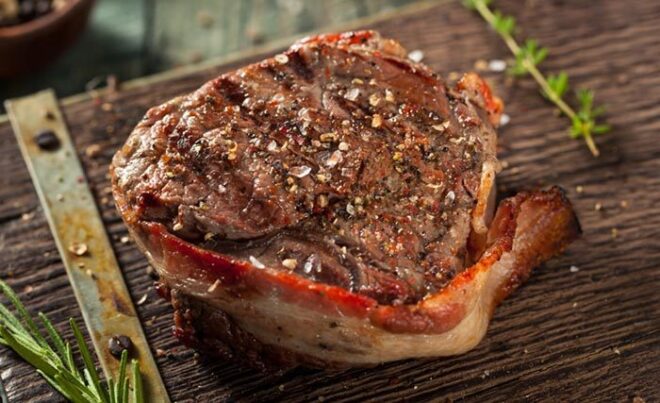 Elegant, delicious and not so difficult to make because we help with the prep! Add a few seasonings, watch the temperature and ta-da, you got it!
Ingredients
Carfagna's famous bacon-wrapped filet mignon
Extra virgin olive oil
3 – 5 sprigs of fresh rosemary
1-2 garlic cloves
Cracked black pepper
Sea salt
Directions
Finely chop garlic then combine with black pepper and fresh rosemary leaves in a mortar and pestle to for a paste-like marinade. Place bacon-wrapped filet in a plastic ziplock bag with the marinade and 1 or 2 tablespoons of EVOO. Cover with marinade and refrigerate for 1 – 2 hours.
Heat the grill to medium-high heat. Take meat out and season with sea salt and black pepper. Sear each side of the filet and then close the lid of the grill. Let meat cook to desired temperature. Remove from heat and let the filet rest for 5 – 10 minutes before serving.
Hint: For medium-rare meat cook to 125ºF.