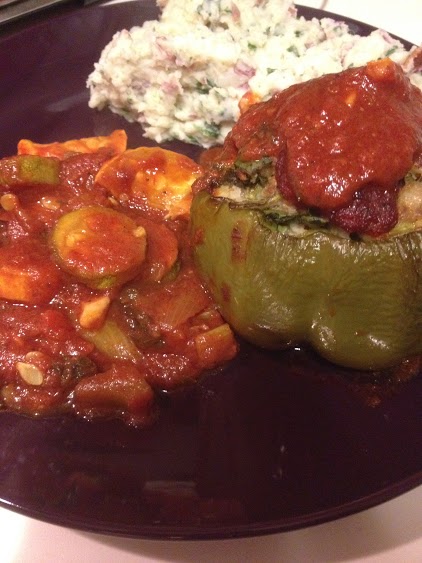 Carfagna's Meatball Mix is absolutely fantastic. Not only is it ready to make tremendous meatballs, but I've found another way to use this versatile mix: Stuffed Peppers. The mix cut down my prep time, and I think it tasted better than when I tried to make a mix myself. (Shh – Don't tell!) This is a great recipe that incorporated a vegetable side dish that cooks with the peppers (two birds, one stone – rock-on!) Hope you enjoy the recipe.
Prep time: 45 minutes
Cook time: 25 minutes
Servings: 4 whole stuffed peppers (or 8 stuffed pepper halves)
Ingredients:
1 lb. of Carfagna's Meatball Mix
17 oz. of Carfagna's Pasta Sauce (half of a full jar)
4 green bell peppers (with 4 legs, so they stand up and taste sweeter)
1 1/2 cups of cooked rice
1 large sweet onion
3 garlic cloves
2 oz. fresh basil
4 oz. of fresh spinach (about 1/3 of a whole bag of fresh spinach)
1 yellow squash
1 large zucchini
2 stalks of celery
Teaspoon of salt
Teaspoon of black pepper
Olive oil for drizzling
Directions:
Preheat oven to 425º. Cook 1/2 cup of rice which should yield 1 1/2 cup cooked rice. Let the rice cool. Cut and gut your peppers as you prefer. I cut the tops off and use my pairing knife to remove the seeds and membranes. If you are cutting the peppers in half, leave the tops on but remove the stem. Drizzle with olive oil and bake until they soften (about 20 min.). Remove peppers from oven and set them aside to cool.
While the peppers are cooking & cooling, cut your vegetables. Cut the celery in small slices and your squash and zucchini in medium slices, the place in a bowl for your veggie side dish. Cut the onion in half; dice half and set aside. Cut the other half in large slices and add to your veggie bowl. Chop garlic, basil and spinach and set those aside.
In a large bowl, begin to make the mixture for your stuffed peppers. Add the Meatball Mix, rice, chopped onion, garlic, spinach, basil, salt and pepper. Mix by hand until all ingredients are mixed throughout but try not to over mix (this can toughen the meat).
Put your side dish vegetables (squash, zucchini, celery, onion) in an oven safe casserole dish. Pour Carfagna's pasta Sauce over them and give a quick mix to make sure they all get some saucy loving.
Take the meat mixture and scoop it into your empty, cooked peppers. (We're getting close, you should see the light at the end of the tunnel!) Nestle the peppers in with your vegetable and sauce, and spoon a dollop of that delicious pasta sauce on top of your stuffed peppers. Roast your mixture in the over for approximately 25 minutes. Take you peppers out of the oven and top off with a little more pasta sauce, because "It's the Sauce!" and enjoy!