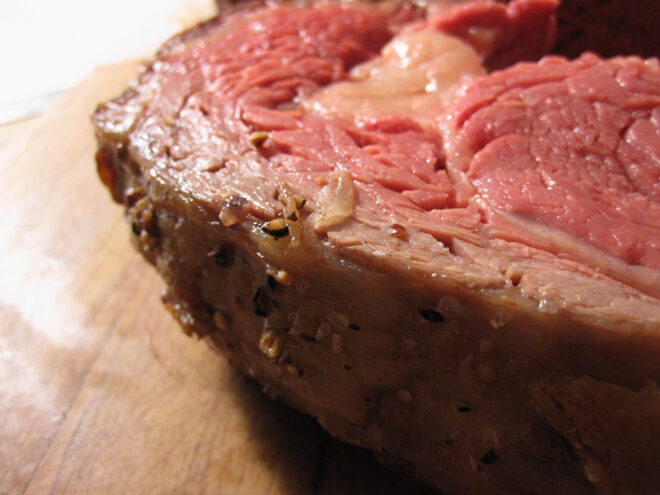 When we think of Christmas week at Carfagna's, we think of the long lines of customers patiently waiting to pick up their professionally trimmed and tied Prime Rib Roasts. It's a tradition unlike any other. Wake up, grab some coffee for the road, and set out for an afternoon at Carfagna's Market. Lined up along the store front waiting for 10:00am to strike and the doors to open. Some customers like to make a bee line straight to the ticket counter, and some enjoy the ease of the day spent browsing at our selection of specialty meats, foods and Italian delicacies. One things for sure, about every other customer coming through the door is there to grab one of our Prime Rib Roasts. Trimmed and tied to perfection, our Christmas dinner wouldn't be the same without this delicious roast. So come see us again this Christmas and don't forget to see Raj in the wine department so he can pair the perfect wine with your Holiday Feast!
If you're wondering how we like to prepare a Prime Rib Roast, here's our recipe for both Bone-In and Boneless Roasts:
Bone-In: Pre-heat your oven to 350F. Place roast in a roasting pan bone side down. Season liberally with garlic, course sea salt, and black pepper (or any favorite seasoning: Try our Prime Rib Seasoning located on top the fresh meat counter). Insert a meat thermometer so tip reaches the exact center of the roasts eye. Add 1/4 inch of water to the bottom of the pan (to catch grease and prevent flare up). Bake uncovered approx. 15 minutes per pound for large roasts (8 lbs. or larger), or 20 minutes per pound for small roasts. OR for a more accurate temp follow your thermometer until it reaches 110F for Medium-Rare, 115F for Medium, 120F for Medium-Well, and 130F for Well-Done. After removing uncovered roast from oven, cover the roast with foil and let it rest 15-20 minutes prior to carving. This allows the roast to continue to "even out" the pinkness of the meat inside and will allow the roast to retain its juices during carving. After rest period, uncover, cut the twine strings and discard them. Remove roast from the ribs (these ribs will be super tender and delicious if saved for BBQ beef ribs for a later meal). Carve the roast as you like and serve with an Au Jus (the roasting juices along with beef broth *see recipe below) and horseradish on the side.
Boneless: Follow preparation and post cooking instructions above, however cooking times will be faster. Use 12 minutes per pound on larger roasts (6 lbs. and larger) and 15 minutes per pound on smaller roasts.
Au Jus: Pour juices off roasting pan and deglaze pan with 1/2 cup of red wine. Add beef broth (1-3 cups depending on group size) bring to a boil. In an separate cup add 1 tablespoon (or more) of corn starch to a little cold water, blend and stir into boiling broth to thicken the au jus and serve.
Pop Up Timer?: If your roast was supplied with and/or inserted with a free pop-up timer from us, please use these guidelines for its use: It will POP-UP when it reaches a pre-set temperature of 138F at the tip of its inserted length. This results in a typical MEDIUM doneness to your roast. If you prefer less or more doneness disregard the pop-up timer and use the above thermometer method or the method of your preference.