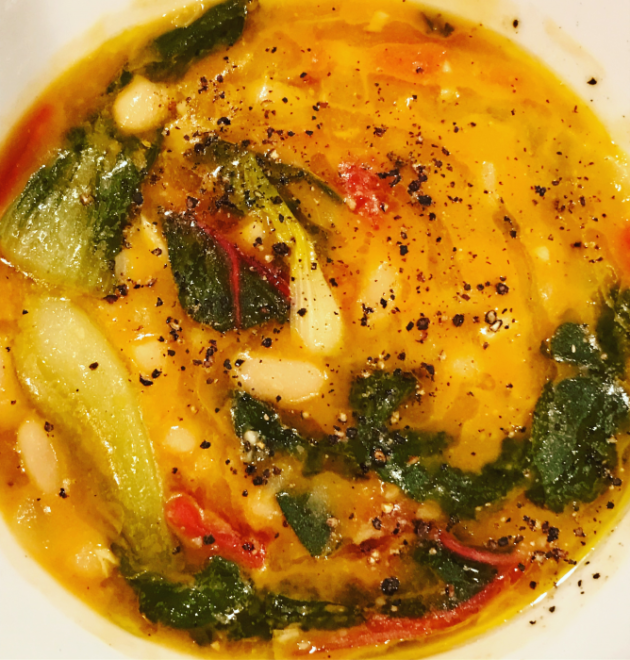 This recipe is a family recipe. This is a staple my father makes during the cold months. It's delicious any time of year, but it's hearty and warms the soul. An Italian tradition from the hills of Tuscany. Cannellini beans, or white kidney beans, are at the forefront of this dish. My father always preferred Swiss chard to other similar leafy greens, and I tend to stick with it as well. Not only is it delicious and healthy, but the firm leaves don't break down in the soup, and the bright red stems add a beautiful splash of color. I've used kale, spinach, and baby bok choy (which I used with Swiss chard for the above picture), all are great for this dish. Use good Extra Virgin Olive Oil, as it's used also as a garnish in this dish and good olive oil compliments the soup oh so well. It's a simple recipe and one you'll crave every time the temperature outside drops.
For this recipe, which will give you 6-8 servings, you'll need the following:
5 (15 oz) cans of cannellini beans or white kidney beans
1 (15 oz) can of diced tomatoes
1 med onion
4-6 cloves of garlic
Extra Virgin Olive Oil
1 bunch of Swiss Chard/Kale/Spinach/Baby Bok Choy
chicken base (sub vegetable base for vegetarian)
salt
Black pepper
crushed red pepper
First prep your veggies:
Dice your onion
chop your garlic
Rinse your leafy greens, pat dry and rough chop them into large pieces. They'll cook down but I like having the large leafs in the soup. If you're using swiss chard or kale be sure to cut out the large portions of the stems. They're tough and unnecessary for the delicate soup.
Over medium to medium-low heat, heat a large sauce/soup pot. Add enough olive to cover the bottom of the pan, I like to add about a 1/4 in depth of olive oil to the pot.
When the oil is hot and fragrant, add your onions and let simmer. Turn the heat down if they're browning too early. This is a delicate dish, we want to treat the ingredients we add as such. Let them simmer for a few minutes on their own, then add your garlic and simmer for another 5 minutes. If they're browning turn the heat down. You want a constant simmer, not a fry.
Add your beans and all the juices from the can.
Add your tomatoes and all the juices from the can.
Add 1-2 tbsp of chicken base, or a cup of chicken stock. Sub vegetable base/stock if making vegetarian.
Bring it to a light boil. Stir as the soup is thick and you don't want it sticking to the bottom.
Once you have a light boil, add your swiss chard or other leafy greens. stir and bring back to a light boil.
Add Salt and black pepper to taste.
For an extra kick, add crushed red pepper. about a tsp or more.
Reduce to simmer and let it simmer for 15-20 min. Stir occasionally.
Serve in soup bowls. Drizzle olive oil lightly over the soup and add more fresh cracked black pepper. You can also add fresh grated parmigiana/romano cheese.
Enjoy!